Residential Properties
Facts and Information
Sizes: 1 - 4+ bedrooms
Baths: 1 - 3+ baths
Rooms: 3 - 9+ rooms
Square Feet: 1,414 - 3,519
Prices: $295,000 to $625,000 USD

Welcome to Marymount Properties
Located in North East Salina, KS, the Marymount Property is a condominium development with low monthly charges and property tax rebates.  Open views with great light, unique layouts, hardwood floors, granite kitchen with oak cabinets and stainless steel appliances and additional storage available.  With a great location next to the Salina Country Club, you will enjoy numerous recreation opportunities.
Building Amenities

Neighborhood Revitalization Property Tax Rebates
Grand Entrances
Roof Top Deck with Panoramic Views
Secure, Underground Parking Garage
Landscaped Courtyards and Garden Areas
Low Property Assessments
Geothermal Heating and Cooling
Contact Us
Dahx Marrs
Property Manager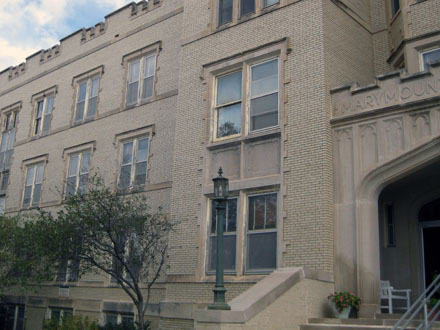 Condominium 208-R

2nd Floor
5+ Room(s)
2+ Bedroom(s)
2.5+ Bathroom(s)
1706 Sq. Feet
Shared Balcony
$340,000.00
When Marymount College opened the Bishop of the Concorida Diocese kept a private suite and Condominium 208 contains these rooms. With both east views of the golf course and west views of Salina, and over 1,700 square feet of living space this unit can accomodate 2 bedrooms and 2.5 bathrooms. It includes original tile and oak floors and a large windows in the center of the building.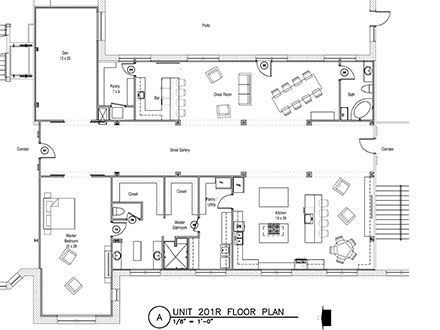 Condominium 201-R

2nd Floor
9+ Room(s)
4+ Bedroom(s)
3+ Bathroom(s)
3346 Sq. Feet
Private Balcony
$600,000.00
Possessing both east and west windows, condo 201 is one of the largest spaces still available. The space will have entrances off of the parking garage elevator and center of the building. Features include original tile floors, up to 13 foot ceilings, oak floors, and marble wall partitions which were part of the Reverand Mother Suite when the building opened in 1922.