Architecture
Originally designed by Salina Architect, C.A. Smith, the Tudor Gothic style building, with a frontage of 325 feet, with north and south wings of 147 feet wide and center wing housing the Immaculate Conception Chapel of 155 feet wide, contains over 130,000 square feet of floor space, with over 300 rooms. When construction was completed the Marymount Administration Building was the largest building west of the Mississippi, and the largest building of its type in the United States.
Longitudinal Section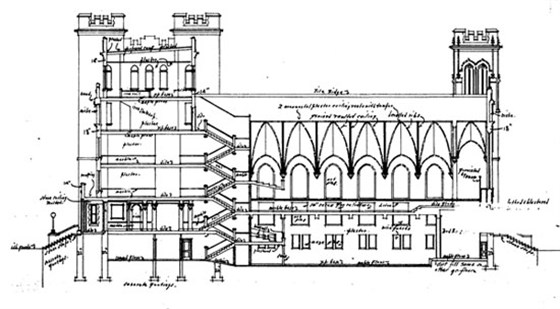 This drawing was done to the scale of 16 feet per inch.
Ground Floor Plan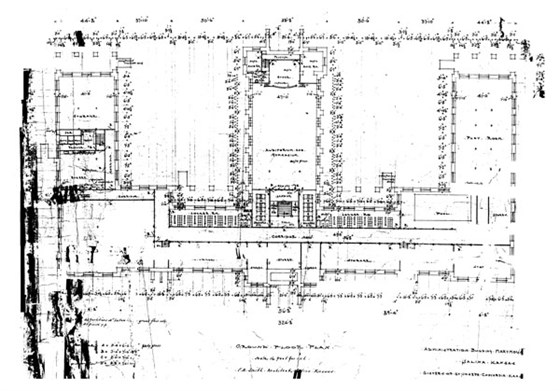 The original ground floor design included storage space, student lockers, showers, the auditorium and gymnasium, a bakery, ice room, a pantry, swimming pool and a play room.
First Floor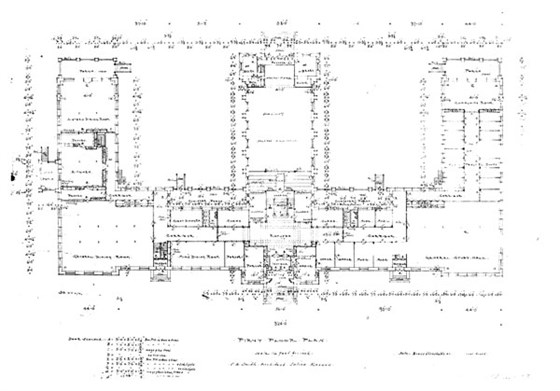 In addition to the kitchen, the first floor contained four dining rooms (Sisters, General, Guest & Mims), two class rooms, two cloaks rooms, offices, music rooms, a general study room and a community room.
Second Floor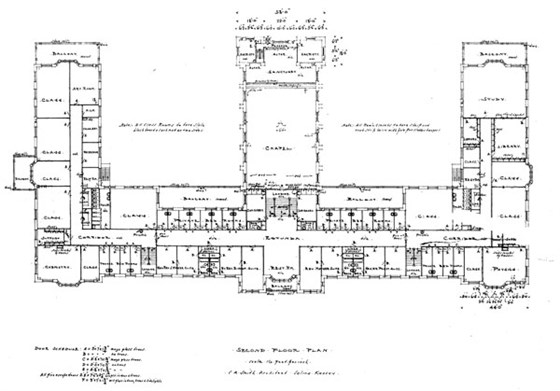 Original plans show the chapel as part of the second floor.  Most of the class rooms were built on second floor as well.  In addition, it housed an art room, kiln room, china art room, private bed rooms, dignitary suites, the original library and a large study room.
Third Floor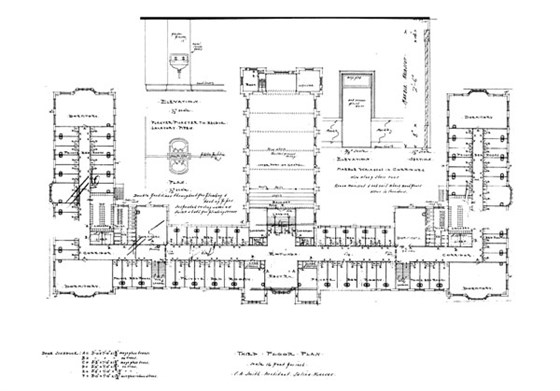 Third floor housed six large dormitory rooms, numerous private bed rooms, student lockers and the infirmary.
DMA Architects, PA
DMA Architects, PA, a fully licensed Kansas Architecture Firm, has maintained offices at Marymount since 1992.  From working within, renovating and restoring Marymount, DMA has developed a reputation for restoring architecturally significant, landmark buildings.
Architect Donnie D. Marrs' background includes undergraduate and professional degrees from the Kansas State University College of Architecture, Planning and Design. Donnie and his staff look forward to working with you on your condo at Marymount.  They will guide you through the decision making process, preliminary and final design, construction drawings and construction administration phases of the project.



Contact Details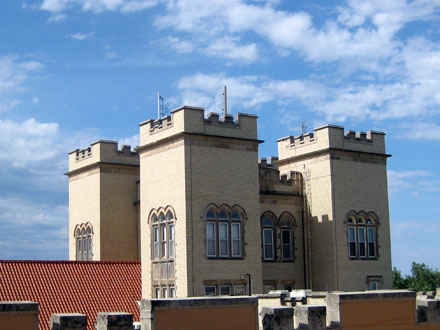 Ascension Rentals
Property Manager
Further Education
Social Media