History of Marymount

Built in 1922, the former Marymount College Administration Building is having a radical transformation into luxury condominiums.  This real estate project will generate new ways of living in a leisurely atmosphere composed of large open spaces and remarkable amenities.  The Tudor, gothic-style building has a significant architectural importance to the city of Salina.
The history of the college dates to 1913 when Salina was selected by the Sisters of Saint Joseph to build a women's educational institution.  In exchange for land located on Iron Avenue, the Sisters promised to invest $100,000 into a new building.  Salina Architect, C.A. Smith was chosen to draw plans, but before construction commenced the country went to war.  In the fall of 1918, when the war was over, the Bishop of Concordia encouraged the Sisters to build the school.  It was soon announced that the college would be named Marymount and that the building was to be modeled after the memorial building being built at Catholic University in Washington, D.C.  
For the next 66 years Marymount would provide a liberal arts educational experience unlike any other in the country.  The school grew to five buildings with three dormitories and an enrollment of over 650 students.  Its endeavors in art, music, theatre and athletics were world renowned.  It was a leader in the education of nurses and a pioneer in the arts.  The school hosted world leaders, including Senator John F. Kennedy.  Due to financial reasons, the college closed in 1989.
In 1992, Salina Architect Donnie Marrs purchased the administration building from the Salina Diocese.  For the next twenty years the building housed commercial office space.  Today construction continues on residential condominiums and a 50 space underground parking garage. Each condominium at Marymount will boast wide open spaces, grand entrances, spectacular views, and one of-a-kind floor plans. Units can accommodate one to four bedrooms and one to four bathrooms providing 1,000 to 4,400 square feet of living. Additional amenities include a roof top deck, landscaped courtyards, a full-court basketball gym and a community lounge.
As a once strong academic institution in the Heart of America, Marymount College is proving to be successful once again. Whether you are a new family or a retiring couple, with seven of the 23 condominiums sold, you too can be a part of its prestigious history. With a building that stands tall upon a hill, seen from miles in each direction, there is no better place to call home. 
Contact Details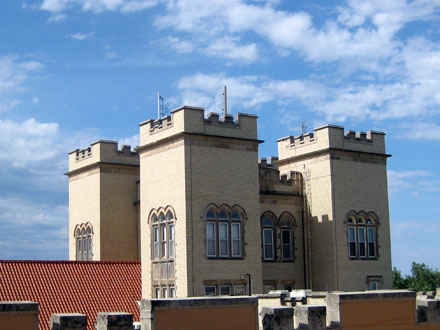 Ascension Rentals
Property Manager
Further Education
Social Media