Sunday, November 23, 2014
One year before the United States granted women the right to vote, the Sisters of St. Joseph broke ground on the construction of the first all-women's college in Kansas. Escalating construction costs put the school's future in jeopardy until Mother Antoinette took her plea for additional funds to Pope Benedict XV himself. Dubbed the "Million-Dollar College," the hilltop campus overlooking the Smoky Hill River finally opened its doors in 1922. The thousands who matriculated throughout its sixty-seven-year existence created a lasting legacy in the Sunflower State. Join alumnus Patricia Ackerman as she preserves the inspiring history of Marymount College.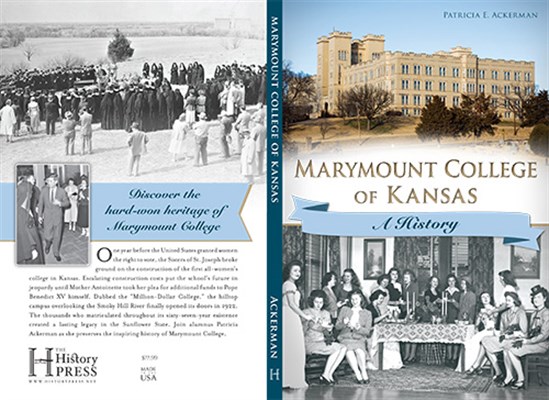 Marymount alumna Patricia Ackerman published "Marymount College of Kansas: A History." The book contains an in depth look of the history at Marymount.
Patricia E. Ackerman graduated from Marymount College in 1975 with a bachelor of arts in English as a first-generation college student. She later earned a master of arts in liberal studies from Fort Hays State University and a PhD in curriculum and instruction from Kansas State University. She works as a professor of language arts at Kansas State University and as a published freelance writer.
The book is available at area bookstores, the Smoky Hill Museum bookstore and online at Amazon.com and historypress.net. It also is available as an e-book.

Further Education
Social Media