Wednesday, September 17, 2014
On the former campus of Marymount College, a long time ago, or last November to be exact, HGTV assembled a film crew to tell the story of the restoration of the historic, administration building. The show about Marymount has been known to us as 'Episode 309' and much like a new Star Wars movie, not much is known about when it will air and many things we have heard may or may not be true. We do know it will not be shown on Friday, September 19.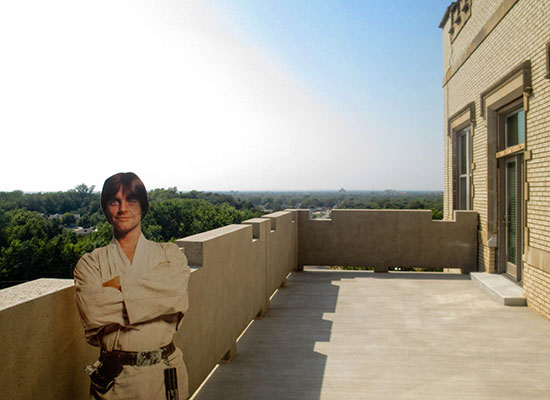 Originally set to air on Home and Garden Television (HGTV), an announced change was made in July that Great American Country (GAC) had decided to be begin airing premieres on Friday's in primetime. Since that announcement, the premiere schedule for new episodes of 'You Live in What?' has been changed not once, but twice.
In an email from a production manager, we were told "I can assure everyone that the show hasn't been cancelled... If it had, no one would be answering or returning my calls at the network. Somewhat paradoxically, receiving inconsistent or inaccurate information from GAC and HGTV is actually relatively encouraging at this stage."
While this news is not encouraging to us, we are delighted with the progress we have made since the film crew was here. The grounds around the building are starting to take shape as grass is planted and the south porches are completed. We have had several new families begin to lease condo units and we are excited for additional condo owners to move in soon.
If you have wanted to live in Marymount, we have a limited number of prime units available on the first and third floors. With the most unique living experience in Salina, we look forward to helping you find the right space to call home.
If you are interested in our project, we will continue to monitor cable show guides and the websites for HGTV and GAC. Rest assured, we will share the secret plans as quickly and accurately as possible.

Further Education
Social Media