Thursday, November 14, 2013
Producers for Home and Garden Television (HGTV) were at the Marymount College Administration building on Wednesday, November 13, 2013 filming for an upcoming show of 'You Live in What?'  Only one week earlier, fall leaves painted the horizon view a bright mixture of orange, yellow and crimson, but the Kansas wind had different plans and altered the beautiful scenery.  Fortunately HGTV came to tell the story of the change occurring inside the building.  New homes are finished and families are moving into Marymount.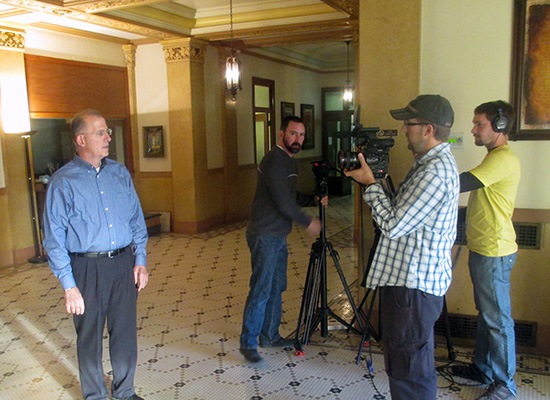 The first condominium, built by Salina Architect Donnie Marrs in 1993, was the primary set for the filming of the show, which is set to air in the upcoming 2014 season.  The film crew captured shots of Dahx and Colleen Marrs and their four boys who live in the towers.  "One of their goals was to show how we use the space on a daily basis.  They filmed us making dinner, the kids playing with their toys and our newborn baby being rocked to sleep," said Dahx Marrs, Director of Operations at Marymount Properties.
In addition, the four person crew took video footage throughout Marymount.  A boom camera was setup in the foyer and chapel.  Special lenses were used to shoot close ups of the ornamental statues on the campus.  Filming was also done in the cafeteria and basement wine cellar.  A time lapse camera was used to capture the state-of-change to the exterior of the building.
The objective for the script was to record how Marymount continues to evolve.  Because of the different types of projects under way they were able to film rooms preserved from the 1980's, areas under demolition, condominiums being built and finally the finished product of a new home. 
"I hope they are able to tell the story about how great Marymount is, what wonderful homes we are building, how much work there is still to do and what it has been like to live and work in this special place.  I am excited to see if they can fit all of that into their piece," said Dahx.
The selection process for the show required speaking with multiple producers, sending information from marymountproperties.com and submitting before and after pictures of different living spaces.  The City of Salina referred the initial contact for the production company and Marymount Properties worked with them to be chosen by HGTV.  
Please sign up for our newsletter to receive information for the broadcast date of the show "You Live in What?" featuring Marymount.  You can also see more photos from the shoot on our Facebook page.
Further Education
Social Media