Marymount Properties - Spring Building New Porches
Wednesday, March 27, 2013
Concrete has been utilized in construction since the ancient Romans used molds to construct aqueducts, tunnels and culverts.  Over time, masonry took the place of concrete because of its style, strength and permanence.  It was the preferred method for erecting large building in the early 1920's when Marymount was established.  Today, concrete offers flexibility in different applications and lower cost, so it has re-established itself as the material of choice for large, commercial buildings.  
At Marymount Properties, we have used precast concrete components manufactured at Stress Cast, Inc. in Assaria, KS in a number of different applications.  Our parking garage was erected using precast hollow-core slabs, columns, beams and wall panels.  This spring we will leverage precast concrete during the construction of porches for our condominiums.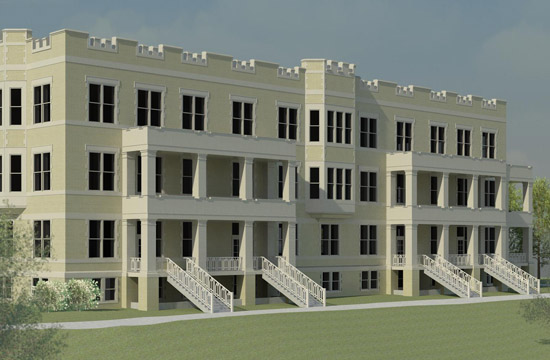 This rendering shows how the new porches will look from the south west corner of Marymount.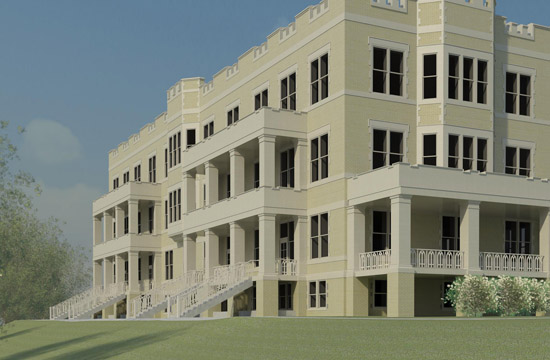 This rendering shows how the new porches will look from the south east corner of Marymount.
The columns and beams of the porches will be cast with concrete and a color dye which will match the colors of the existing masonry walls.  Once cast, the materials will undergo a sandblasting and power washing procedure to apply a finish similar to the building lime stone.
The use of precast concrete also reduces the time it will take to construct the porches.  From start to finish, the project can be completed in 60 days and it will only take 1 week for installation.  We anticipate construction of the columns, beams and floor panels to begin in April, with the installation to follow in May.  We hope you will come and see the construction process and consider purchasing one of the nine remaining condominiums with access to these south facing porches.
Further Education
Social Media